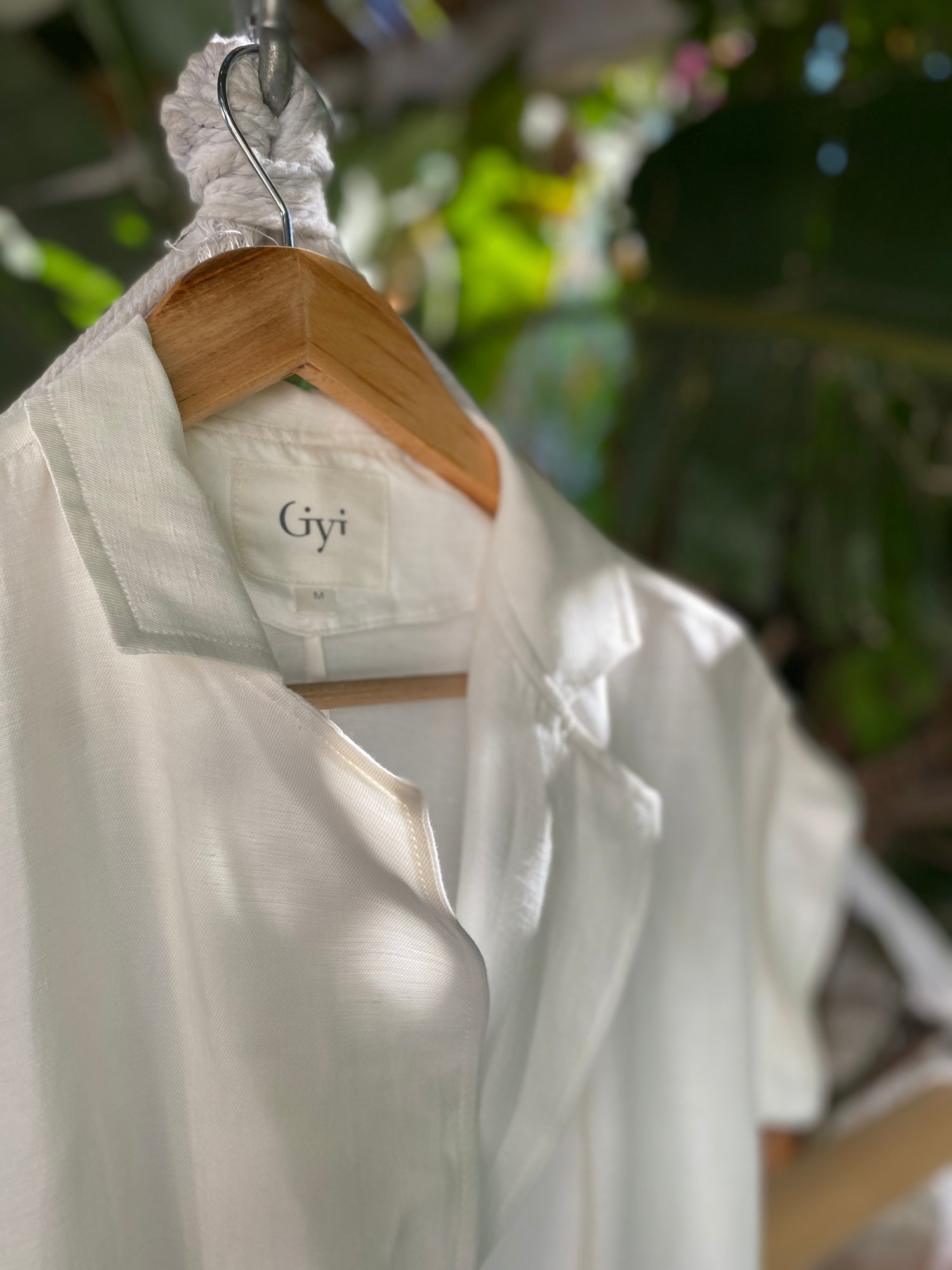 The mainstream practices in the fashion and textile industries are unfortunately listed among the causes of the climate crisis that we and younger generations are now faced with. According to the latest relevant data, 10 % of the global carbon emission is generated by the fashion and textile industries. At Giyi, we take these facts seriously and act by being aware of our responsibility towards nature.

Since the fabric is the main material in the manufacturing of a clothing item, we pay attention to choosing fabrics with the lowest possible carbon footprint. The fabrics we use at the manufacturing process of all Giyi items are biodegradable and do not include petroleum - derived ingredients.

Giyi sees fabric as the magic of our clothes. Therefore we prefer using breathable, natural and seasonless fabric types. Any fabric that we wear on our skin should be natural and healthy. Main fabrics we use are: organic cotton denim, cupro (vegan silk) and Tencel™. We also included hemp, linen and viscose from our trustable and traceable fabric suppliers.

For buttons, we researched for the most natural materials we could find. We preferred buttons produced from mother-of-pearl and the coconut kernel. Only synthetic-based materials, which correspond to less than 1% of the total material used, is in the interlining and some of the threads that we use.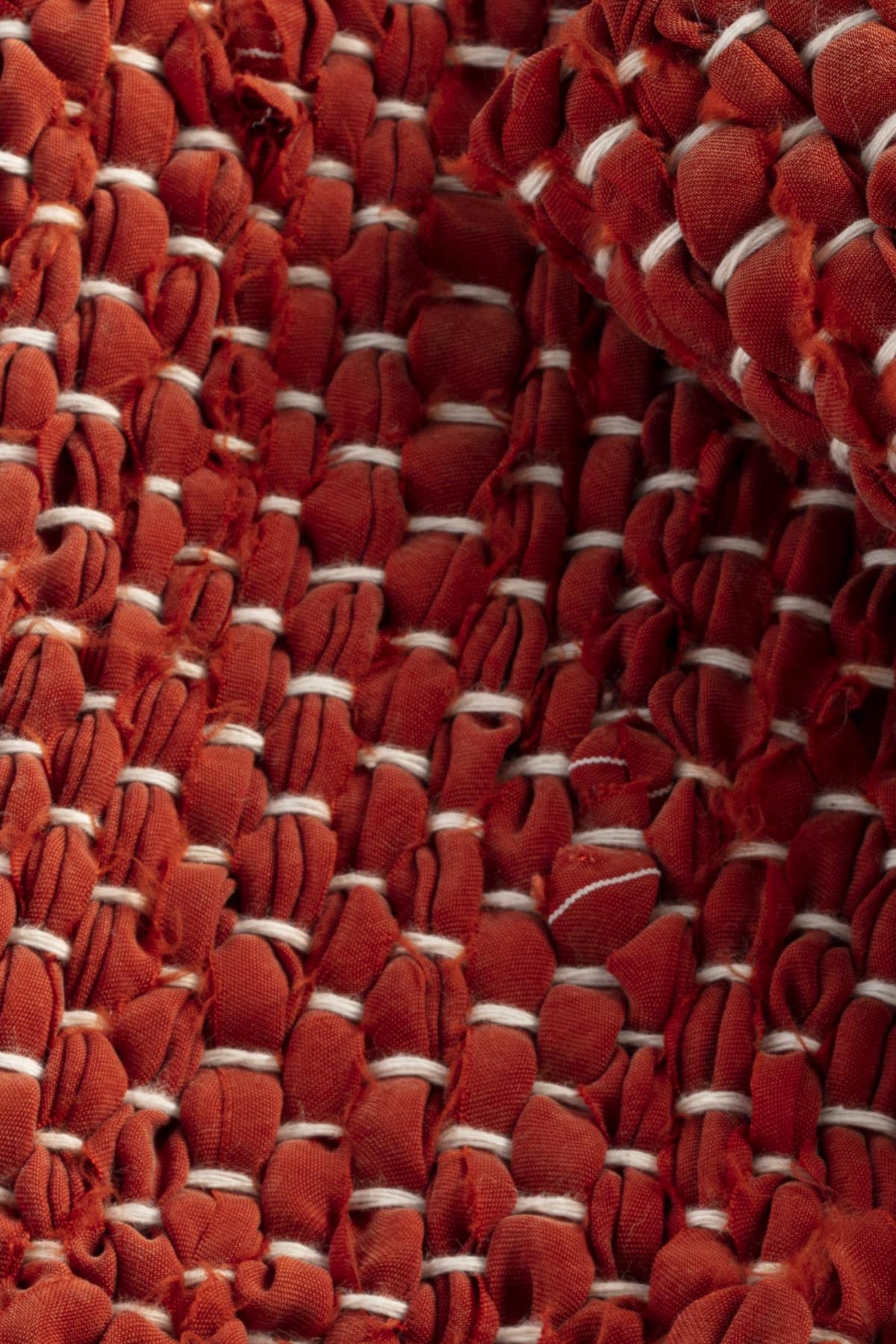 ORGANIC COTTON

We source our %100 organic cotton, cotton-hemp blend and linen-cotton-Tencel™ blends from Orta. Organic denim fabrics are either GOTS (Global organic Textile Standard) or OCS (Organic Content Standard) certified.

CUPRO (VEGAN SILK)

Born From Cotton, Better Than Cotton, we source our cupro fabric from İpeker. Cupro is made from cotton linter, the short downy fiber enfolding cotton seeds, and is normally disposed without being used as a fiber source. Asahi Kasei removes all impurities from the pre-consumer waste and transform it into a pure regenerated cellulose fiber. Production process uses zero-waste policy, and the closed loop manufacturing in which solvents are fully recovered. Any cellulosic waste is used as fuel to generate electricity. According to the company, the conducted Innovhub third party lab test has proven that Cupro can claim full biodegradability end of life option.

TENCEL ™
We source Tencel™ from Motif. Lenzig's Tencel™is produced through a closed-loop process, contributing to the circular economy in the textile industry. Derived from the sustainably sourced renewable raw material wood. The use of resources and energy is reduced to a minimum, at the same time we achieve distinguished level of environmental protection and resource preservation. As a plant-derived fiber, Tencel is also biodegradable.

LINEN

Linen is one of the oldest fibres known. Made from Earth friendly flax plant. Naturally needs no pesticides. Every part of the flax plant has traditionally been used to create a worthwhile product – nothing is wasted. Clean to grow. Durable and has an airy feeling. Wicks moisture away from your body.

HEMP

ORTA's ethically sourced Gen H made from hemp, a net-positive plant that supports greater biodiversity of soil, which is important for mitigating climate change. It is also naturally anti-bacterial, anti-microbial, super soft and breathable. Gen H with Hemp is like denim eco-nirvana, as it doesn't shred as much as other fabrics in the wash cycle– which means it doesn't release microplastics into the water ways. Even if it does shed a bit, it's completely biodegradable.

DEADSTOCK FABRICS

In our Deadstock Collection, we use rescued fabrics that would otherwise be thrown aside. Each piece in deadstock collection is in limited quantity. Fabrics are sourced from our trusted manufacturer partners, who are left with surplus fabrics from their production.
We give these unique fabrics another life cycle and create beautiful Giyi pieces.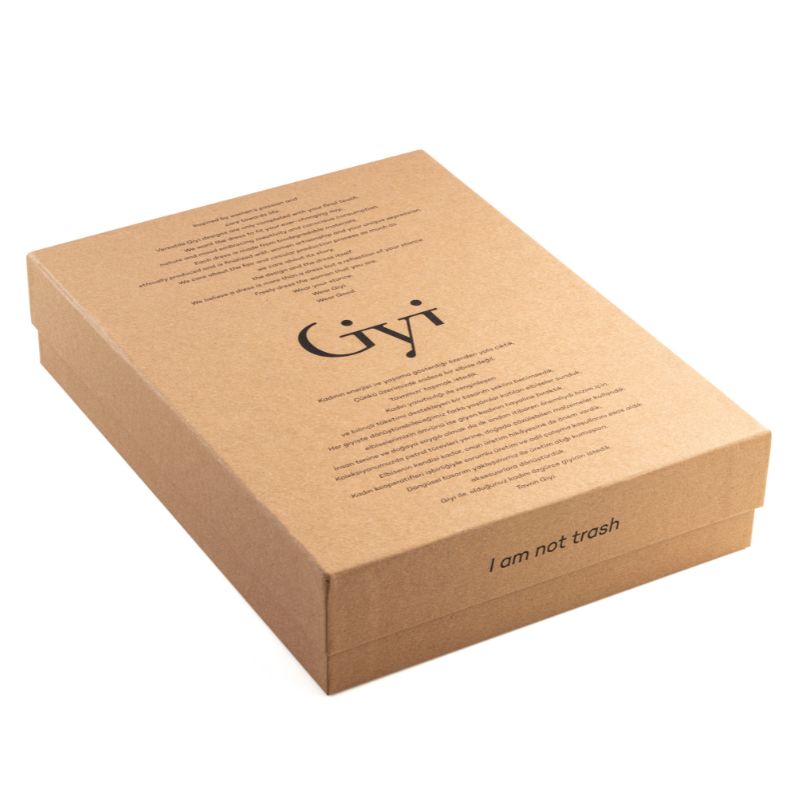 Other than the fibres that we use in the making of our clothing line, the packaging is as much critical to the carbon footprint generated out of the entire process. Since we strictly avoid using petroleum based products and causing waste, we came up with 2 ideas. One of them is Giyi bags, which are 100 % cotton and provides a great alternative to a simple casual shoulder bag. The second idea is a solution we created for long distance deliveries, which is a cardboard box. Giyi boxes that are manufactured by SunEtiket are strong enough to protect our precious dresses during transportation. The Giyi boxes turn into a multifunctional storage unit for your delicate items.

As much as the price tags seem a tiny detail, they are sadly another item that goes to trash usually. Since they convey valuable information, they are of importance. Therefore we thought if we design them to be reused as a bookmark, they will less likely end up in the trash bin. Again, for a more Giyi kind of world.